Best Seller Sarees
Regular price

Rs. 4,500.00

Regular price

Sale price

Rs. 4,500.00

Unit price

per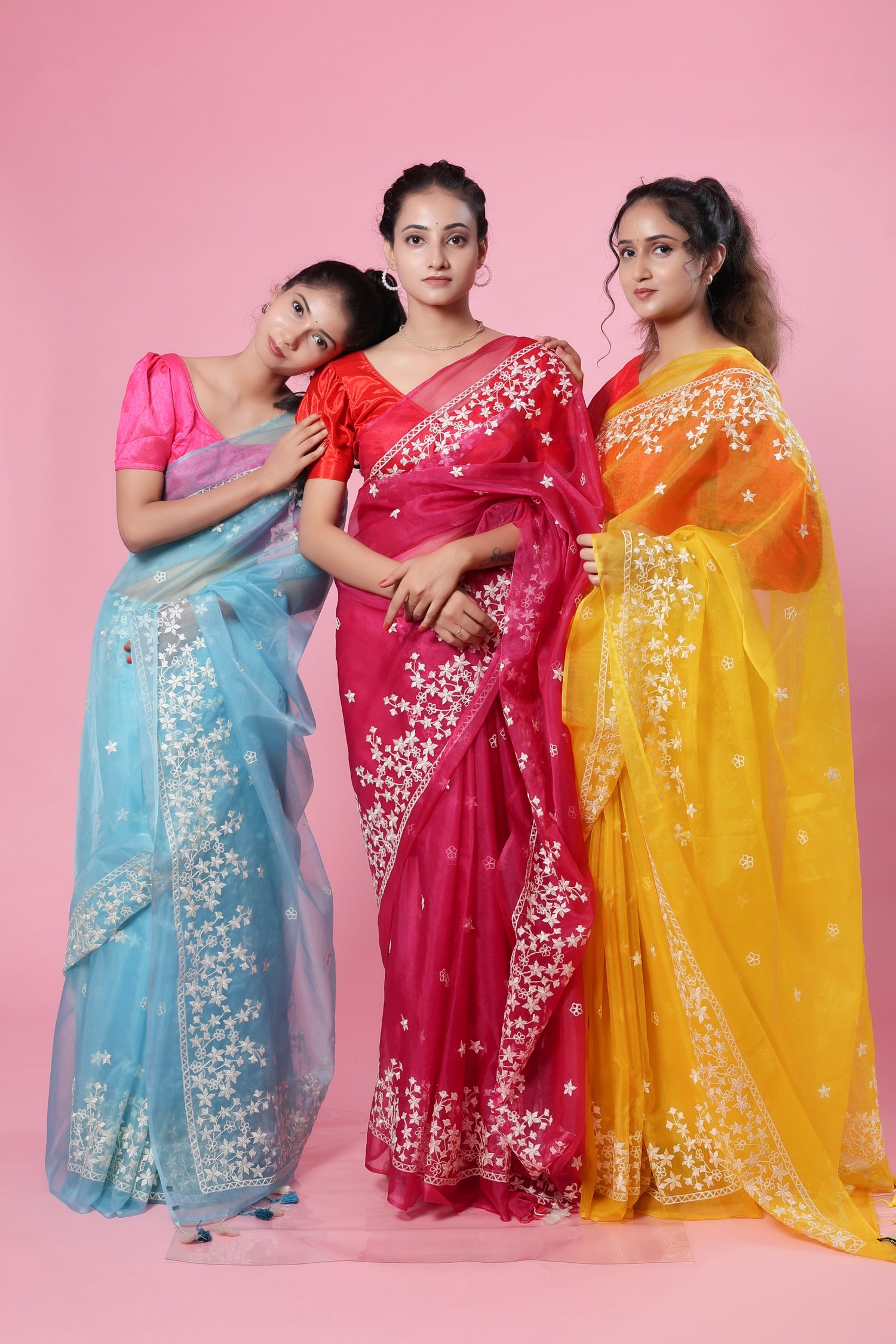 Explore Nayab Stores For Latest and Fashionable Women Clothing Online Shopping
I have enough clothes, said no woman ever! Earlier, you had to hop from one store to other or visit the crowded shopping malls to buy your favourite outfits. However, online clothing for women has changed the shopping scenario completely. Women don't need to step out anymore to buy their favourite clothes. Especially when it comes to ethnic wear such as sarees, lehengas, and dupattas, Nayab Stores is the place for you. 
In fact, Nayab Stores clothing is your one-stop solution for a variety of beautiful ethnic clothes. You can buy top-quality outfits from our store at a reasonable price—no more stressing overstepping out and visiting stores to find that one perfect outfit. Just explore our webpage, and you are good to go.
Buy Gorgeous Saree from Nayab Stores Clothing
At Nayab, we offer a lovely saree collection that will spoil you for choices. We have a wide range of sarees in different fabrics, work, colours, price range, and not more. You can choose a saree based on your preference or occasion. 
More Nayab Stores Clothing
We have sarees in fabrics such as cotton, georgette, organza, silk, bandhani, and Banarasi, to name a few. You will find a lot of different and unique prints, patterns, and colour combinations in our sarees for women clothing online shopping. 
One of the best things about our sarees is that you can wear them for any event from engagement to wedding and reception to sangeet. We also have sarees for festive occasions such as Rakshabandhan, Diwali, Karvachauth, etc. 
If you are looking for sober sarees that you can wear in routine or to the office, we have lovely options for that as well. Our collection meets the diversified needs of different women. They are perfect for women of all ages, from young ladies to elderly ones. 
Whether it is a plain saree, an embellished one, intricate thread one, weaved, or printed, you will find it all in our best online women's clothing store. 
Best Online Women's Clothing Store for Lehenga
There is no elegant outfit as gorgeous as a lehenga for women. When it comes to festivities and wedding events, lehengas are the most preferred choices for women. 
For women clothing online shopping of lehenga, Nayab is a perfect choice. We offer different types of beautiful lehengas for various occasions such as Diwali, Karvachauth, Mahanadi, Sangeet, Engagement, Reception, and Wedding. 
You can find a stunning collection of lehengas at our online store, which you can flaunt and put your best foot forward at celebrations. We have simple lehengas as well as heavier ones with thread and embellished work. 
Our lehenga collection is versatile in terms of colours, fabrics, patterns, and designs. You will find the latest and trending lehengas on our webpage. Our lehengas are not only beautiful but are top-quality outfits that look classy and elegant on women. 
We have lehengas in fabrics such as silk, net, banarasi, and more. There are different styles of lehengas like A-line, flared, fish-cut, etc. You can choose your favourite type and rock the occasion. 
Buy Different Varieties of Dupatta from Women's Clothing Online
Dupattas are lovely accessories that women team up with Kurtis, salwar suits, shararas, ghagaras, and lehengas. Women need a lot of dupattas in their closets to match with different types of outfits. 
Not just with ethnic clothes but some women team up their dupattas as scarves with jeans- top as well. Nayab Stores for online clothing for women offers a wide range of dupattas on our online store. 
We have plain cotton dupattas that you can wear on daily basis with your regular cotton suits and Kurtis. The cotton dupattas are soft and comfortable, especially during the summer season. They are available in lovely prints and weaves as well as in plain options. 
We also have net dupattas, which are meant for special occasions. The net dupattas have borders or embellishments on them to give them a heavy look. These dupattas are perfect for teaming up with lehengas. 
Then there are silk dupattas and banarasi dupattas. These are heavier dupattas worn only during festivities and events. We have lovely colours and patterns in these dupattas. The best thing about them is that you can pair them with plain salwar suits and lehengas to glam up the look. 
Even plain and simple suits and lehengas can look stunning when paired with the right dupatta. You can either pick a dupatta in the same colour or go for completely contrast colour. Dupattas can transform a simple look into a glamorous one. You just need to pick the right dupatta. 
Dupattas are a must-have in your wardrobe. You can pair them with any kind of ethnic outfit. Explore our collection and grab your hands on some of the best pieces from each fabric that you can flaunt from time to time. 
Grab Your Hands-On Mask from Best Online Women's Clothing Store
In these times of pandemic, the mask is quintessential even when you are attending functions. If you don't like to wear plain and boring masks, you can find lovely masks at our best online women's clothing store. 
We offer masks in different fabrics and attractive colours so that you can pair them with your outfits in similar colours. Our masks are reasonably priced so that you can buy them in various colours. 
Our masks are good in quality and made from thick fabric. This is important for protection from the virus. 
Best Online Women's Clothing For Hassle-Free Shopping
Buying clothes from Nayab Stores is extremely easy, just like buying any other online stuff. You simply need to create an account and add your PIN CODE. Now explore our stunning collection of products that you wish to buy. Once you make the payment, the order is confirmed and ready to be delivered.
Our payment gateways are safe and secure. Your private details won't be compromised. We also offer different modes of payment for your convenience so that you can choose your preferred mode of payment. 
You can rest assured about the quality of your product as they are safely delivered without any damage during transit. We assure you of on-time delivery across the nation. You can expect the parcel to arrive within 4-7 days of placing the order from Nayab Stores Clothing. 
Tips To Take Care of Your Ethnic Outfits
It is important to take care of your ethnic clothes more than your casual ones. Because of the fabric and work on the ethnic clothes, they need special care and maintenance so that you can preserve them for a long time. When taken care of well, ethnic outfits will last you really long. 
Once you buy from our women's clothing online, you should place silica gel or naphthalene balls in your wardrobe. This helps in avoiding the moisture and preventing the dew. 
You should always store your silk sarees, lehengas, and dupattas in transparent air-tight bags after they are dry clean. Hanging them on the hanger will make them lose their shape.
Placing rosemary or lavender sachets in the wardrobe can help in maintaining fragrance and also repel moths. 
To avoid the blackening of Zari on sarees and lehengas, you should use a white muslin fabric for storing them.
To maintain the glitz and shine of heavily embellished and glittery clothes, place them in butter paper. 
You should always follow the wash and clean dry instructions that come along with the clothes. 
When you wash your heavy ethnic outfits, never hang them. Instead, lay them flat on a plain surface for drying. The outfits should be fully dry before you store them.
On cotton and polyester fabrics, you can use a stain remover to remove the stains. On silk or brocade, you can sprinkle some talcum powder on the oil stains. For tougher stains, you can get the services of professional cleaners. 
Any loose thread, stitching, or buttons must be fixed as early as possible to avoid further damage. 
You must keep on refolding the ethnic outfits from time to time so that no permanent creases are formed. This will also help in preventing the fabric shine from getting dull. This is especially applicable for silk and embroidery work. 
You can also take the dresses out and keep them in the sun for a few hours. This will help in keeping bad odour at bay. 
Avoid spraying perfumed and sprays on ethnic wear as it can leave a mark. 
To grab your hands on the latest collection of ethnic outfits, explore our spectacular collection today! Every woman loves to flaunt the latest collection of clothes, and what better than finding a single store for meeting all your needs. With our line of women's clothing online, you can be a diva at occasions and events. If you wish to bedazzle at the events and be an instant head-turner, Nayab Stores offer a stunning range of ethnic outfits for you.